Growth of Cricket game in different district in the country and centre of the global growth of the game has become tremendous. A Super 50 Cup is a form of limited overs cricket, played between two teams in which each team faces a fixed number of overs, currently 50, with the game lasting up to 9 hours.
This tournament has become a yearly program which will take place in Thimphu and Gelephu districts. Events such as this are going to become the focal point of cricket's push to make the game more accessible and more visible to the youth all around the district – this tournament makes a pathway for youth to participate at international tournament.
And it is also important step in increasing the profile of the youth cricket in Bhutan.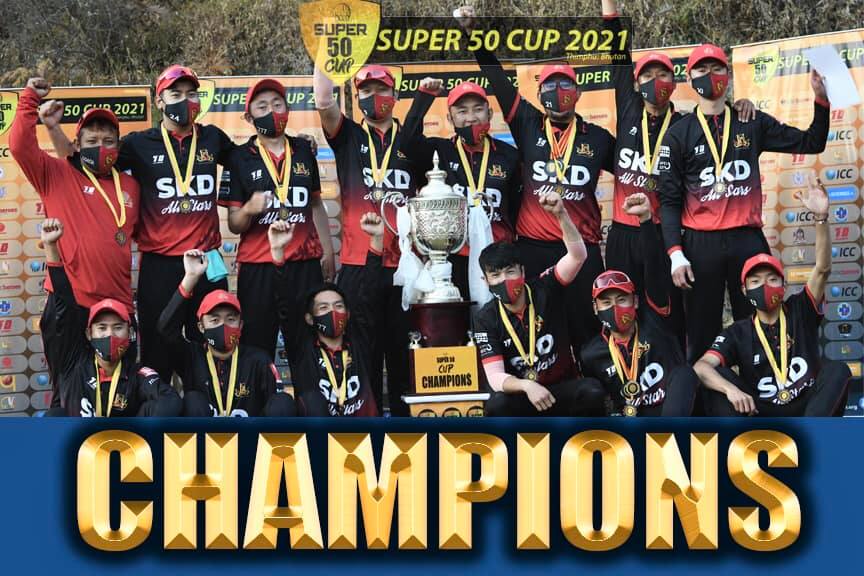 So, first Super 50 Cup tournament was started in the year 2021. It was a month long tournament started from October 9th to November 20th, 2021 at Jigmethang, Thimphu where six club have participated namely:

With the four win straight in the tournament SKD ALL STAR was on top of the Point Table where they were going to face Veteran Gladiator on final that was dated on 20th November, 2021.
During the final Veteran Gladiator won the toss, opted to field where SKD ALL STAR played 50 over and made 312 runs with the fall of 8 wicket. With the target of 313 runs from 50 overs, Veteran needed 6.26 runs per over. The brilliant fielding from SKD ALL STAR, Veteran Gladiator made 180 runs in 38.3 over with the fall of all wicket. And SKD ALL STAR winning by 132 runs. So, SKD ALL STAR was title as Winner of the Super 50 Cup.
Following are the receiver of awards:
Winner – SKD ALL STAR
Runners Up – Veteran Gladiator
Player of the Series – Suprit Pradhan (Veteran Gladiator)
Best Wicket keeper – Manoj Adhikari (SKD ALL STAR)
Best Bowler – Tandin Wangdi (SKD ALL STAR)
Best Batsman – Gakul Kumar Ghallay (SKD ALL STAR)