Growth of Cricket game in different district in the country and centre of the global growth of the game has become tremendous. A Super 50 Cup is a form of limited overs cricket, played between two teams in which each team faces a fixed number of overs, currently 50, with the game lasting up to 9 hours.
This tournament has become a yearly program which will take place in Thimphu and Gelephu districts. Events such as this are going to become the focal point of cricket's push to make the game more accessible and more visible to the youth all around the district – this tournament makes a pathway for youth to participate at international tournament.
And it is also important step in increasing the profile of the youth cricket in Bhutan. So, first Super 50 Cup tournament was started in the year 2021. It was a month long tournament started from October 9th to November 20th, 2021 at Jigmethang, Thimphu where six club have participated namely: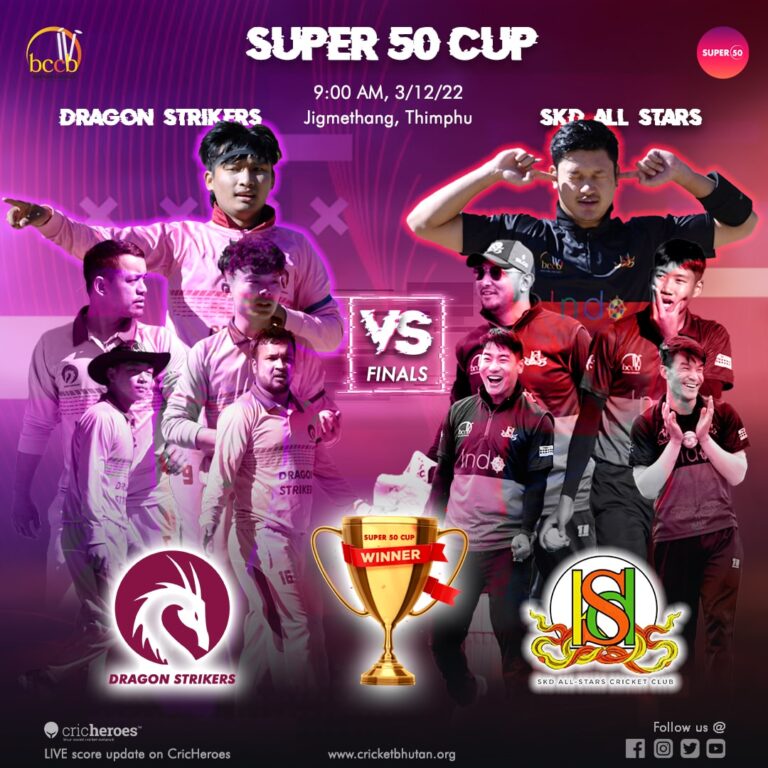 The Bhutan Super 50 Cup 2022 has been going on for two months, and it's now time to crown a winner.
At the end of this exciting tournament, the team with the most points will be crowned champion. But who will be victorious?
Dragon Striker's bowling lineup boasted 32 wickets overall and SKD All Stars had 32. Will this be enough to give Dragon's the edge? Find out on December 3rd!
Let's look at each team's bowling power and see which one has the upper hand when it comes to putting runs on the board.