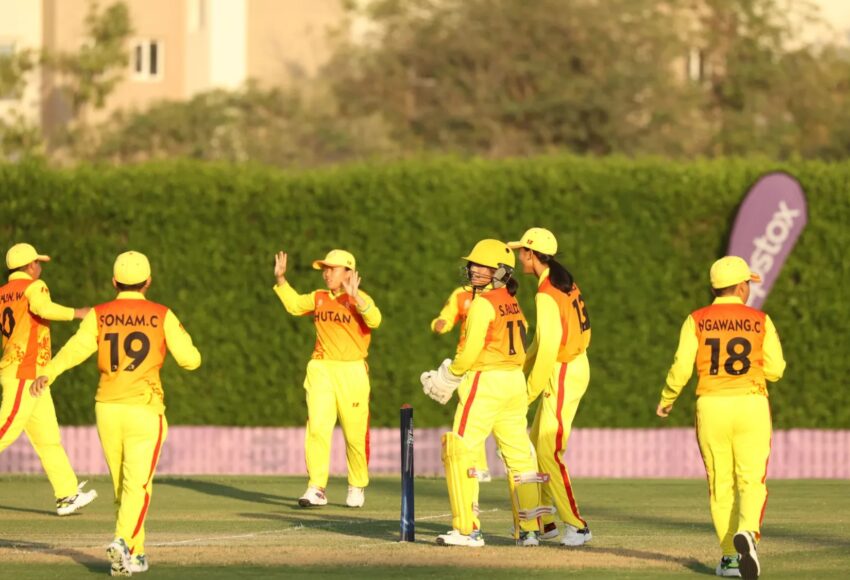 Kuwait, playing the third match of the day, also decided to bowl first after winning the toss. Bhutan opener Ngawang Choden was the first to go trapped leg before by Khadija Khalil for 6. Wicketkeeper Sonam Paldon took the score to 24 before she got clean bowled by skipper Amna Tariq for 11. Bhutan skipper Yeshey Choden, together with Dechen Wangmo tried hard to increase the run flow. But Maryam Omar clean bowled Choden for 11. Wangmo too got run out for 17 thus upsetting their plans. 
Tshering Zagmo rose to the challenge and along with Pema Seldon steered their team past the 100-run mark. They put on 45 runs for the fifth wicket before Seldon got run out to the first ball of the last over for 18. Zagmo remained unbeaten with run-a-ball 37 with four boundaries.
Chasing Bhutan's total of 113 for 6, Kuwait lost their opener Zeefa Jilani to the last ball of the first over when she got run out for a duck. The second wicket to fall too was through a run-out when Khaldija Khalil fell for 9. Skipper Tariq joined Piyada Murali but Karma Samten removed Murali for 10. Tariq became the third to get run out for 7. At the halfway mark, Bhutan took a firm grip when Zangmo trapped Siobah Gomez leg before for a duck. With half the side back in the pavilion for just 36 runs, Bhutan went for the kill taking wickets at regular intervals. Maryam Omar stood amidst the ruins and played some lovely shots to score 29 runs before she too became the fourth run-out victim. When Aakriti Bose too got run out, Kuwait's half the side got out to run-outs resulting in a 40 run win for Bhutan.